DIAMOND PROTECTION PACK (a set of nanocosmetics) for the complete treatment and protection of your car. The pack contains Diamond Nano Clear Glass, Diamond Nano Protect Glass, Diamond Nano Shampoo, Diamond Nano Armour and Diamond Nano Protect Wheel, a microfibre application cloth (2pcs), polishing cloth (2pcs), wash sponge, protective gloves and an information brochure.
Unique nanotechnological cosmetics that create an invisible transparent layer of nanoparticles (a millionth of a metre) on the car's lacquer or glass have a width of only several nanometres. The nanoparticles contained in the cosmetics are invisible to the human eye because their size is several times smaller than the wavelength of visible light. We use this feature, for example, in transparent auto cosmetics which contain nanoparticles of silicone oxide or zircon oxide, which do not change the colour but give the surface the required hardness and resistance to scratching. They penetrate the pores and microscopic cracks in lacquer and so protect lacquer from further scratching. Other chemical components highlight the sheen and depth of lacquer.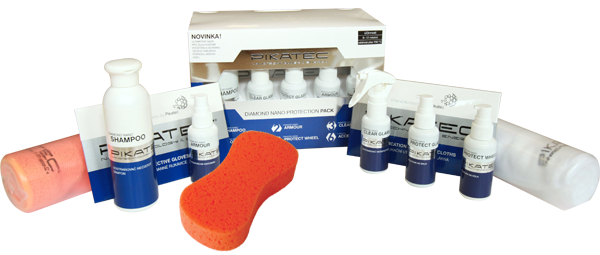 ---
NEW SERIES OF PIKATEC DIAMOND
The newest, the best and uncompromising – this is a new series of PIKATEC nanocosmetics. The assignment was clear – we want autocosmetics that can withstand cold arctic as well as hot equatorial extremes. We want maximum UV protection for lacquers! We want maximum hardness and abrasion resistance! We want maximum water resistance!
We want to seal pores in lacquer as much as possible for a period of one year. We want the shortest time possible for hardening and maximum resistance to industrial detergents. We want maximum thermal resistance. Simply put – we want to create the best and most resistant autocosmetics imaginable and, along the way, leave the production price to one side - this aspect will be addressed later, if necessary. 
---